Developer
Stainless Games
Publishers
SCi, Stainless Games
Genre
Open World Vehicular Combat
Platforms
PC, Xbox, Playstation, iOS, Android
About the game
Carmageddon is *the* original freeform driving sensation, where pedestrians (and cows!) equal points, and your opponents are a bunch of crazies in a twisted mix of automotive killing machines.
The game features anarchic drive-wherever-you-like gameplay and over-the-top surreal comedy violence. It's the racing game… where racing is for wimps.Carmageddon features real-world environments that have been turned into killing fields, where the locals stay out on the streets at their peril. As well as using your car as a weapon, every level is sprinkled generously with power-ups that have a vast variety of mad effects, adding a whole extra level of craziness to the proceedings.
In every event you have the option to "play it your way"… Waste all your opponents, kill every pedestrian, or (perish the thought) complete all the laps.
Oh and watch out – the cops in their super-tough armoured patrol vehicles are lurking, and if they catch you being bad they'll be down on you like several tons of cold pork.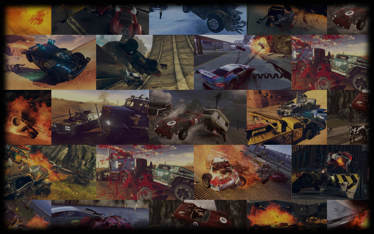 Stainless developed Carmageddon from the ground up, and in fact, some of the original dev team still work here now! It was originally released (and then promptly banned) in 1997.
Praised for pioneering realistic physics, explorable open-world environments and sandbox gameplay, Carmageddon went on to sell millions of copies, firmly placing it the annals of gaming history. Due to the success, we went on to produce many DLC and sequels, including:
Phase one
Carmageddon - 1997
Carmageddon Splat Pack - 1997
Carmageddon Max Pack - 1998
Carmageddon II - Carpocalypse Now - 1998
Stainless regained ownership of the IP and developed and self-published remastered and new games in the franchise.
Phase two
Carmageddon on Mobile - 2012
Carmageddon Reincarnation - Kickstarter edition - 2015
Carmageddon Max Damage - Console & PC - 2016
Carmageddon Crashers - Mobile - 2017
G.O.G versions of all PC versions
Awards
Game of the Year
PC Zone, 1997
Driving Game of the Year
PC Zone, 1997
Nominee, Computer Action Game of the Year
D.I.C.E, 1998